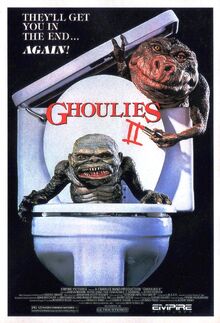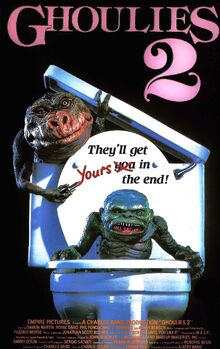 GHOULIES II 1987. Empire Pictures.
Edit
THEY'LL GET YOU IN THE END...AGAIN!
Edit
The Ghoulies are back! Those devious, disruptive little Demons from hell have just hitched a ride with a traveling carnival. The creatures quickly take up residence in the house of horrors attraction called Saten's Den.
The Ghoulies dazzle the public and Saten's Den's profits are through the roof. But when patrons start turning up dead, things take a turn for the worse.
Now the Ghoulies are free and ready to wreak havoc on the unsusspecting carnival goers. Bumper cars, Merry go round, Torture Chamber, even the men's bathroom spell trouble in this fun sequel.
Ad blocker interference detected!
Wikia is a free-to-use site that makes money from advertising. We have a modified experience for viewers using ad blockers

Wikia is not accessible if you've made further modifications. Remove the custom ad blocker rule(s) and the page will load as expected.